Caged Heat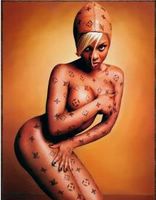 Lil' Kim is
headed off to jail.
At least a year in prison for protecting some fellow rappers involved in a shootout.
Reporter Judith Miller is
also off to prison
, for protecting a source in the outing of an undercover CIA operative.
One is a slut queen who warbles about cunnilingus and guns.
One is an uptight and self-aggrandizing
New York Times
reporter.
I smell
sitcom
....