The Stand on Media Jackals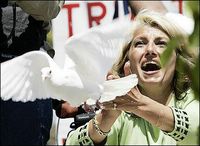 Stephen King knows horror. And
his
take in
Entertainment Weekly
regarding the media circus that surrounded the Michael Jackson trial? Nothing short of horrific:
" It's sickening that it takes a columnist in an entertainment magazine to point out that more than 2,000 newspeople covered the Jackson trial — which is only a few hundred more than the number of American servicemen and women who have died in Iraq. On the same day that crowds gathered in Times Square (and around the world) to learn the fate of the Pale Peculiarity, another four suicide bombings took place in that tortured, bleeding country. And if you tell me that news doesn't belong in
Entertainment Weekly
, I respond by saying Michael Jackson under a black umbrella doesn't belong on the front page of the
New York Times
."