Cartoon Sex
In a comment on this blog several days ago, our pal Dr. Pants (of
Wholesale Pants Warehouse
fame) offered to post a scholarly article on the sexual peccadilloes of comic book characters. Needless to say, we were intrigued. Nevertheless, I ultimately wussied out on actually posting the piece, chiefly because my parents, God love 'em, occasionally read this blog. I just couldn't handle envisioning my sweet, silver-haired folks reading on my blog about Superman laying pipe mid-air with Lois Lane. Come to think of it, "laying pipe" probably isn't the best phrase to use, either.
At any rate, the good doctor has gone ahead and posted his treatise on his own site. It is an edifying, as well as titillating, read: two, two great tastes in one! Click
here
for it.
As one of those firmly on the cusp between Baby Boomer and Generation X, I must admit to a little wistful fondness for memories of those cartoon creations that stirred my inner horndog. But long before I found myself disturbingly aroused watching
Heavy Metal
, there were the comic books of my formative years. Being an avowed Marvel connoisseur, my prepubescent salaciousness chiefly involved
The Amazing Spider-Man
and its succession of Peter Parker's girlfriends.
The first one I recall getting a crush on was the gorgeous, but ill-fated,
Gwen Stacy
, whom the Green Goblin killed in 1973. That ... that ...
fucking goblin.
I'm still enraged just thinking about it.
.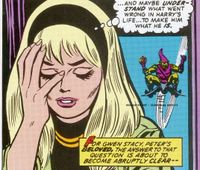 Of course, a superhero can only grieve for so long. I rejoiced when Peter Parker hooked up with the feisty girl next door,
Mary Jane Watson
.
What prepubescent Chase liked so much about these animated vixens, aside from their obvious attributes (even two-dimensionally, these girls had curves) was the fact that they'd been snagged by quintessential geek Peter Parker. For an awkward 7 year old who could barely hurl a dodgeball without bruising himself, Gwen and MJ provided that rarest of commodities: hope.
It was shortly after I discovered Spidey's hotties that my brother-in-law at the time -- a bookmaker, drug dealer, smut peddler and all-around shady character -- taught me how to draw pictures of nekkid girls by tracing the centerfolds in
Playboy.
But that's for a different post.