Naughty and Nice
Be still, my grease-smeared heart -- and all other unruly appendages.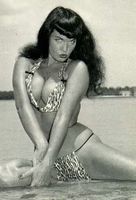 The
Bettie Page
flick is nearly upon us. Amid Hollywood's rash of overhyped biopics of the past few years, I find it particularly gratifying that moviedom finally got around to
The
Notorious Bettie Page,
which is slated for a theatrical release this week before moving on to HBO.
(Flesh Gordon has a sneak peek over at
Ain't It Cool News
).
The lovely
Gretchen Mol
(above) will play the Banged One. Equally promising is its director,
Mary Harron
, who brought us
American Psycho
and
I Shot Andy Warhol.
Check out the trailer for the Bettie Page movie
here
.
Some 50 years after her heyday as a pin-up queen, Bettie Page -- now 82 years old and living in seclusion -- finds herself more popular than ever. And that's saying a lot, considering how her image has graced everything from posters to photo books to movies to comics. She is a bona fide phenomenon.
As a devotee of
Bettie
, I am at a loss to really get a handle on her enduring appeal. What is it? Her bright, expansive smile? Her bewitching eyes? Her black bangs? Legs from here to eternity? Nah. Truth be told, there are sexier retro icons, but none that have such seemingly immortal allure.
In an excellent piece for
The Los Angeles Times,
reporter Louis Sahagun
reviewed
what might account for Bettie's enduring popularity:
"During her brief career, she became the obsession of thousands of men -- a fact that mystifies her to this day: 'I have no idea why I'm the only model who has had so much fame so long after quitting work.'

"Writer Harlan Ellison suggested an answer: 'There are certain women, even certain men, in whose look there is a certain aesthetic that hits a golden mean. Bettie is that. Marilyn is that.' Richard Foster, one of her two biographers, called her 'the trendsetter in American sexuality.' Playboy magazine founder Hugh Hefner put it another way.'Exactly what captures the imagination of people in terms of pop culture is something hard to define,' Hefner said. 'But in Bettie's case, I'd say it's a combination of wholesome innocence and fetish-oriented poses that is at once retro and very modern.'"
As for me, I'm inclined to ascribe much of Bettie's appeal to the duality (how's that for highfalutin?) of her persona. She excelled equally in Eisenhower-era cheesecake (leopard-skin outfits, skimpy bikinis) and the darker recesses of sexuality (her bondage pictures for porn king Irving Klaw). Indeed, her personal life mirrored such extremes. Molested by her father, Bettie knocked around in loveless marriages and dead-end jobs before hooking up with amateur New York shutterbugs who responded to her sunny good looks. After her career fizzled -- the result of a sanctimonious U.S. senator from Tennessee, Estes Kefauver -- Bettie became a born-again Christian, albeit one who also suffered occasionally violent spells, one of which led to her commitment to a mental hospital.
If the Madonna/Whore dichotomy hadn't existed before the advent of Bettie Page, it would have been invented to explain her (a fascinating, if sensationalistic, telling of her life story is covered in Richard Foster's book,
The Real Bettie Page.
In the
L.A. Times story
, Bettie herself reflects on her role in pop culture:
"In the autumn of her life, Page is learning to accept what her modeling meant for her and for American popular culture. 'Young women say I helped them come out of their shells,' she said. 'And 13 rock groups have written songs about me. One song has these lyrics all the way through, "I love Bettie Page. I love Bettie Page. I love Bettie Page."'

"'I want to be remembered,' she said, 'as I was when I was young and in my golden times…. I want to be remembered as a woman who changed people's perspectives concerning nudity in its natural form.'"
We'll just remember her for all she did in the cause of being naughty. As well as in the cause of being nice. Bettie was both, simultaneously. And the world is a better place because of it.
Anyway, I can't wait to see that movie ...