The FOX and the Lizard
FoxNews.com
features a short bit today on a Lawrence, Kansas, woman who found an alligator in front of her home. That, in and of itself, is hardly so impressive (I have come across a few reptilian Jehovah's Witnesses at my front door before), but I was struck by the headline that an intrepid FOX writer (how's that for an oxymoron?) gave the story:
"
Big Lizard in My Front Yard
"
Now, all I can guess is that the headline is an obscure allusion to
Big Lizard in My Backyard
, a seminal (and terrific) punk album cut in 1985 by the sadly underappreciated
Dead Milkmen
.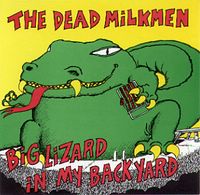 So, what does this mean?
That there is at least one reasonably cool FOX News employee.
Just thought it was worth pointing out. Keep hope alive!